MARVEL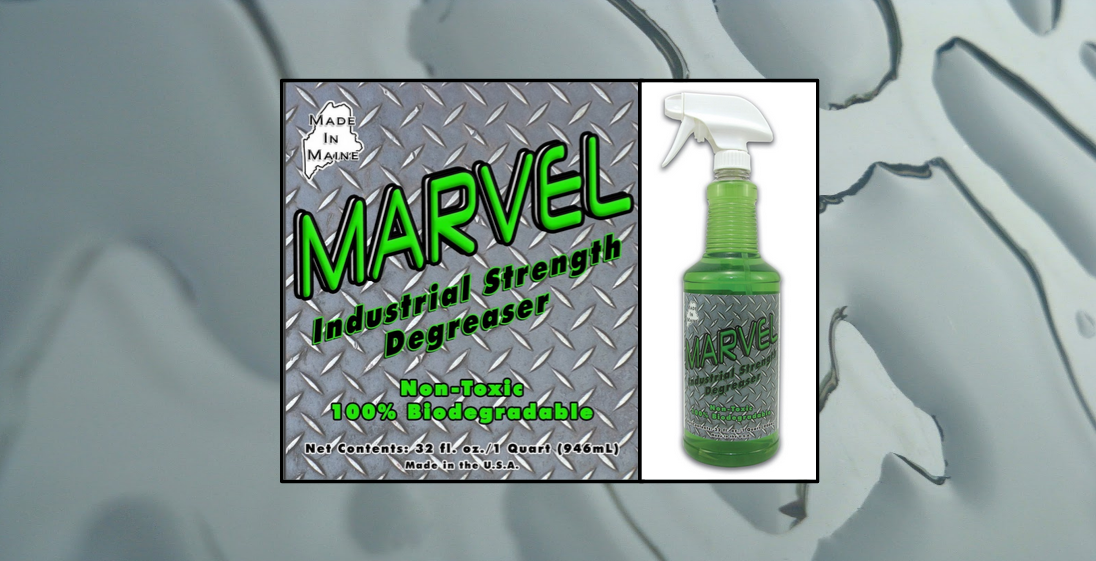 ---
ABOUT MARVEL
Marvel is an industrial strength clearner and degreaser that is ideal for the toughest of industrial cleaning jobs and is an excellent product for all types of general cleaning. This highly concentrated heavy-duty cleaner features a water soluble solvent and will aggressively, and safely, break down and emulsify grease, oil stains and residue caused by petroleum, animal, wax, and vegetable oils. Marvel can be diluted with water up to 40:1 for powerful and economical cleaning. Marvel is safe, biodegradable, non-flammable and does not contain nonyl phenol ethyloxylates or phosphates.
AVAILABLE SIZES:
1 Gallon Jug
5 Gallon Pail
30 Gallon Container
55 Gallon Drum
---
FEATURES & BENEFITS OF MARVEL
Dyed green in color, given pleasing citurs smell

Non-toxic and biodegradable, making just about any application environmentally friendly and safe

Super-concentrated formula can be diluted with water at varying ratios, making for wider range of uses

Will not cause caustic burns.
USES INCLUDE:
| | | |
| --- | --- | --- |
| home cleaning | kitchens/restaurants | removing grease buildups |
| building maintenance | ovens and vent filters | |
| garages/workshops | industrial equipment | |
---
DIRECTIONS
Spray on soiled surface and rnse or wipe clean with damp cloth. For more stubborn areas, re-apply and let set for approximately one minute and repat as necessary. Store in a cool, dry place.
WARNING
KEEP OUT OF REACH OF CHILDREN
Product may cause irritation to skin and eyes. If contact occurs to skin or eyes, flush with large amounts of water. If swallowed, drink several glasses of water and consult a physician. Product should be disposed of in accordance with federal, state, and locat regulations. Marvel contains <1% of 2-Butoxyethanol 111-76-2.
Disclaimer: Chemfast, LLC. provides the information contained herein in good faith but makes no representation as to its completeness or accuracy. Individuals receiving the information must exercise their independentjudgment in determining its value. Chemfast, LLC. makes no representations or warranties, either express or implied, including without limitation any warranties of merchantability, fitness for a particular purpose with respect to the information set forth herein or the product to which the information refers. Accordingly, Chemfast, LLC. will not be responsible for damages resulting from use of or reliance upon this information.